FUN LANGUAGES NEW ZEALAND
Enrol
Enrol in one of our nationwide LCF Fun Languages Clubs
Shop Online
Have a look at our options to get you learning languages online!
Free Trial
Enquire about a free trial now!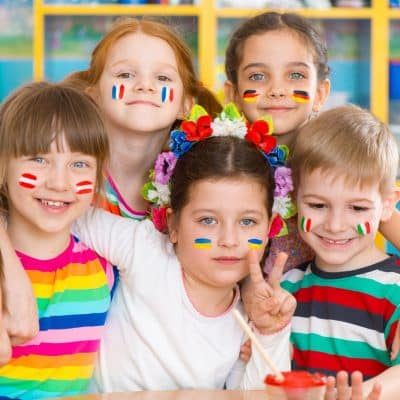 Free Term of tuition if you start a club at your school!
Offering your children an opportunity to learn another language is one of the best things you can do.  The earlier, the better.  You will have noticed how your children acquired their own first language.  They listened, repeated, attempted to say the words and then enjoyed experimenting with them through normal social interactions, games, stories and songs.  It is this principle of learning that we have adopted for the Fun Languages Methodology.  It's the most natural way to learn…
If you are keen for your children to start learning at their most receptive age and stage of development, then please contact us.  You may also wish to learn alongside them and have fun learning new games in another language.
Start a Club at your pre-school or primary school and receive a free term of fees with our thanks
Start a language group with yourself and your little linguist and receive a free term of fees
LCF Fun Languages
LCF Fun Languages operates pre-school, after-school clubs, and language learning centres across New Zealand.
Operating throughout Europe, Australasia, South America and Asia,  LCF Fun Languages started teaching languages in 1985 with a method based on the natural way that children acquire a language. While we focus on language tuition to children, programs are available for language students of all ages.
Children learn through a combination of drama, storytelling, songs, craft and games. They rapidly acquire enough knowledge and confidence to enjoy using the language for communication and expression.
LCF Fun Languages programs are designed to give children the confidence to speak in either French, Spanish, Mandarin Chinese, Italian, German or English.  Similarly adults can attend LCF Fun Language courses that will encourage them to speak a foreign language like a native!
LCF Fun Languages teaching resources are also available for schools, specialist and non-specialist language teachers.
Operating throughout Europe, Australasia, South America and Asia, LCF started teaching languages in 1985